So, you have made the big decision to go on a vacation during the COVID-19 pandemic. However, you are not sure which weekender bag would be the best fit and are mulling over your options. Well, worry no more! In this article, we will provide some guidance on choosing the perfect weekender bags that would fit different destinations and vacation types if you are traveling during this pandemic.
Suppose you want to enjoy some hiking in Mexico's rugged terrains, visiting sites such as the Copper Canyon in the town of Chihuahua, Desierto de Los Leones Park in Mexico City, or Chipinique National Park in Nuevo Leon, where hiking trails are aplenty. In a case like this, you will need to choose the right weekender bag to make the experience as enjoyable as possible. Some of the recommended options for you to choose from include the Hyperlite Mountain Gear 400 Southwest backpack, Gregory Baltoro 75, Osprey Xenith 88, or the Hyperlite Mountain Gear 2400 Windrider.
The Hyperlite Mountain Gear 400 Southwest backpack
The Hyperlite Mountain Gear 400 Southwest backpack is perfect when hiking through trails with thick vegetation that you have to push through. The bags' solid and durable hardline pockets will keep your important possessions such as your cameras, water bottle protected from the thick overgrowth. You can, therefore, hike with confidence knowing that you have a backpack that will protect you while you explore and enjoy nature! Please see link where you can purchase this durable back pack.
The Gregory Baltoro 75
The Gregory Baltoro 75 is one of the most versatile weekender backpacks on the market for hiking and mountaineering activities. This backpack is packed with so many features that it has sometimes been referred to as a hiker's dream. Some of the more compelling features of the Gregory Baltoro 75 is its durable tubular aluminum frame, which helps to channel the weight in the backpack to your lower back and, at the same time, reducing the annoying side to side swaying motion that we suffer when using other less efficient bag packs. The backpack also has a custom-fitted rain cover attached to provide shelter in the case of rain. Also, the Gregory Baltoro 75 includes a water-resistant hip belt pocket to store your phone or camera and a neatly tucked away water bottle holster that gives you easy access to your water while on the go. Please see link if you want to purchase one of these durable back packs.
The Osprey Xenith 88
The Osprey Xenith 88 is another excellent weekender backpack for taking on your Mexican hiking trip. This roomy and comfortable backpack allows you to go on long hikes carrying all the accessories that you need in ultimate comfort. The Osprey Xenith 88 is highly customizable, making it a comfortable fit regardless of your size or height. Additionally, the bag comes with a zippered sleeping bag, front and side meshes for storage of water bottles and other valuables, and a removable top lid that can be converted into a daypack for camping trips. Please see link if you want to purchase one of these top-notch weekender bags.
The Hyperlite Mountain Gear 2400 Windrider
The Hyperlite Mountain Gear 2400 Windrider is an ultra-light and water-resistant backpack, equipped with an outer mesh perfect for drying wet clothes on the go while you hike. This unique weekender back is made from 100% waterproof fabric, and the colorway of the backpack is constructed with 150-denier Dyneema, which makes the backpack extremely durable. Please see link to purchase this product.
These are some of the best weekender bags for travel that involve physical activity; it is imperative that you have all the right equipment when going on your next physically demanding excursion, especially in the era of COVID-19!
For your tropical beach vacation to a rustic island like Antigua or St. Lucia or a relaxing and easy-going destination like Jamaica, there are weekender bags that perfectly fit the occasion! Whether you want to just laisse on one of Antigua's 365 beaches all day, go on the Best of St. Lucia Culture and Heritage Tour or tour the famous Dunn's River Falls in Jamaica. Some of the best weekender bag options for these activities include Baggu Canvas Weekender, Longchamp Boxford Duffel Bag, Baggu Puffy Tote, and LL Bean Waxed Canvas Duffle.
The Baggu Canvas weekender
The Baggu Canvas weekender is the perfect lightweight tote bag that works for trips to the beach, guided tours, and visits to attractions. This bag is large enough to hold everything that you will need on these trips, from sunscreens to beach towels. The casual and simple design fits in well with a laidback tropical environment like the Caribbean. You can follow this link to purchase the Baggu Canvas Weekender bag.
Longchamp Boxford Duffel Bag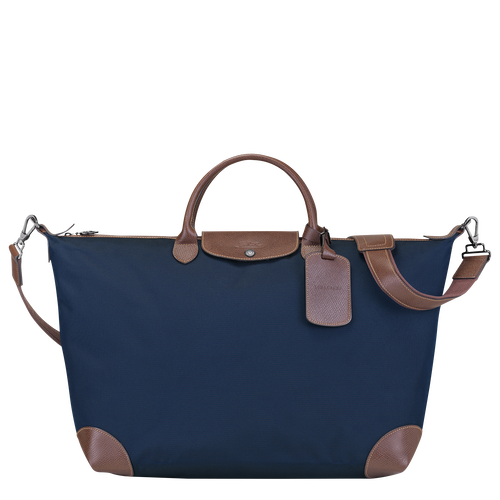 Longchamp Boxford Duffel Bag is another great weekender bag for any environment. It is incredibly durable and large enough to accommodate everything that you need when going on that day trip. The Longchamp Boxford Duffel Bag allows you to pack your items in a structured way and is also a very stylish option. These bags fit in on a tropical beach or if you are just going for a walk in touristy towns such as Ocho Rios in Jamaica or Castries in St. Lucia. If you want to add one of these Longchamp bags to your collection, please click link to purchase.
Baggu Puffy Tote
Baggu Puffy Tote is another practical option for a Caribbean vacation. The bag is super light and easy to walk around with while being large enough to accommodate all your essential items. It is also a very affordable yet durable option. Here is a link to purchase one of these bags if you so desire.
The LL Bean Waxed Canvas Duffle
The LL Bean Waxed Canvas Duffle weekender bag is one of the best options for family travel due to its spaciousness and durability. This bag is designed from waxed canvas and leather, which are two of the strongest materials used to make weekender bags. Its relatively large size allows you to carry items for every family member, including the younger kids, while the family is enjoying a day out on the beach or touring an easily accessible attraction. This bag has been around for a while and continues to be one of the favorite weekender bags for non-physical activities. See link to purchase one of these cool weekender bags.
These are our picks of weekender bags that are best suited for different types of vacations. We recommend that you choose one of these backpacks to ensure that you are fully prepared for a memorable vacation experience, whether it is in the Caribbean, Mexico, or any other destination. We wish you happy and safe travels!!!